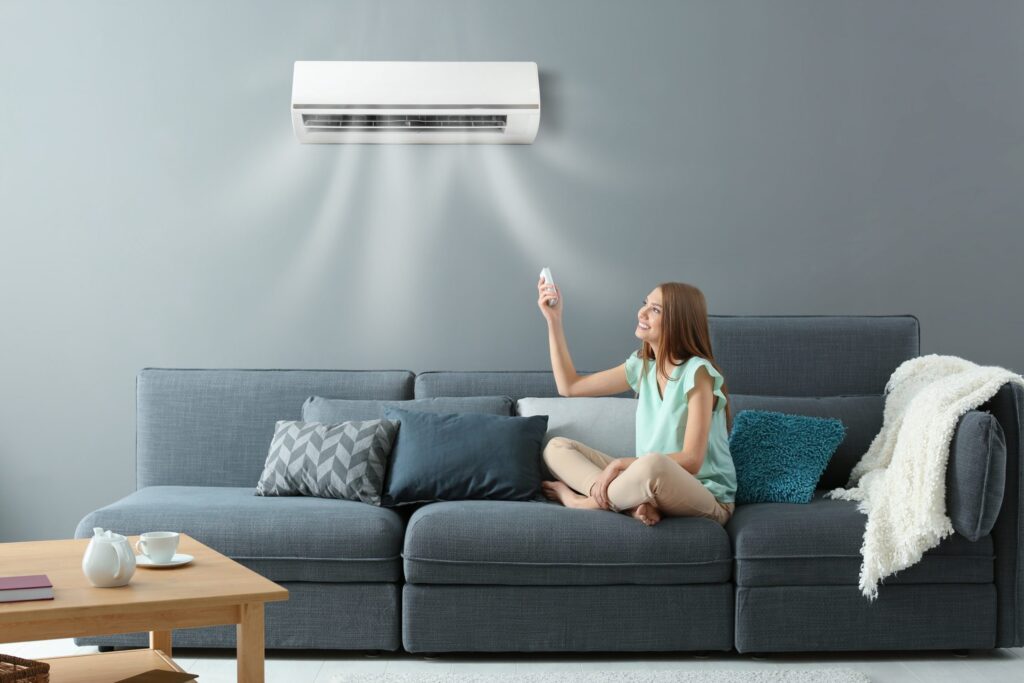 Well, it's that time of the year again when the daylight gets extended, and stepping out of your comfort zone feels like a challenge. The summers are here, and your search for the best split AC has begun.
We'll all agree that it's one of the best inventions in the history of humankind. All credits to Willis Carrier, the man who invented the world's first air conditioner. And as time passed by, air conditioners became more advanced with a lot of features to keep our surroundings cool & in some cases even clean.
Though it's a good thing that now we have a lot of choices to pick from but most of the times, it just confuses us with one question –
Which is the best split AC for me?
The answer to this isn't easy. We have our own preferences and requirements based on which we should be purchasing the desired air conditioner.
Well, to relieve you a bit from your woes of going back and forth the internet in your hunt for the best split air conditioner in India, I have compiled this article.
Here, I'll talk to you about the points that you must consider before buying an air conditioner, along with my own suggestion of the 11 best split AC that you can buy in India.
Beginning with –
Points to Consider Before Buying a Split AC
Room Size:
It's the first and most essential point that you need to look into before purchasing one. An AC's job is truly fulfilled when it can distribute the cool air across the definite space optimally.
Generally, if your room size is somewhere around 100-200 sq ft, then a 1 tonner would work fine. If the room size exceeds the mentioned size, you might consider getting a 1.25 or 1.5 Ton AC.
Electricity Consumption:
Air conditioners carry a bad reputation, especially amongst the Indians, because of their high electricity consumption. Here, you need to check their star ratings issued by the Bureau of Energy Efficiency (BEE) about how efficient they are so that later you don't have to keep digging your pockets.
Brand & Customer Service:
The brand name remains one of the top-selling points for air conditioners combined with customer service. Always check which brand is more preferred in your location and also how responsive is their customer service.
Durability:
This is nothing but the duration guaranteed to you by the manufacturer, promising prompt free service in case anything goes wrong with the machine without your interference.
Price:
Though best things will always come costly, you must definitely decide on a budget that you want to spend, and accordingly, you can narrow down your search for the best split ac in India.
Moving on to –
11 Best Split ACs that You Can Buy in India
LG has always been a front runner whenever it comes to consumer electronic goods. Similarly, its air conditioners too were able to grab the consumers' attention and stood up to their expectations.
This AC boasts a 5-star energy rating making it one of the best ones available out in the market.
Despite being powerful in its category, it operates silently. The AC comes with an auto-clean feature that keeps away the moisture and prevents germs from breeding.
Further, it's a smart AC that will let you know when you're running low on gas so that you can top it up with the environment-friendly R32 refrigerant gas.
This AC is comparatively expensive, but you'll have LG's trust and access to their colossal service network across India.
Warranty details – 1 year on product & 10 years on compressor with gas charging

Voltas has been one of the most trusted brands when it comes to air conditioners in India. Perhaps a quality product from the house of TATA like always.
This split AC provides quality cooling while saving up on your electricity bills with a 3-star BEE rating and works really fine for medium-sized rooms.
Since it's an inverter AC, it comes with a variable speed compressor that adjusts itself depending on the heat load.
Other USPs include low noise, easy maintenance, dust filter, and anti-bacterial coating.
One fun fact,
World's tallest building Burj Khalif is fitted with ACs from Voltas, and I guess that answers the question of reliability.
Warranty details – 1 year on product & condenser; 5 years on compressor

If you're looking for a split AC that works just fine for a small room, then this one is just for you.
This 0.8 ton AC comes with a 3-star BEE rating. The whirlpool split AC is also equipped with a variable speed compressor that can adjust the power as per need and the price range is also significant enough for you to consider.
Its 3D Cool technology cools even in extreme temperatures of 52 degrees Celsius.
Talking about its durability, it comes with a copper coil and uses an environment-friendly R410A gas. Further, it has a built-in dehumidifier to prevent the humidity around and comes with IntelliSense Inverter Technology.
Warranty details – 1 year on product & condenser; 10 years on compressor

Well, you might not have come across Sanyo's name when it comes to AC but believe me, this 1.5 Ton dual inverter split AC is one of the best in its category.
This AC is quite affordable without compromising its quality and has earned a 5-star BEE rating ensuring that your electricity bills won't be much affected.
It also has a 2.5 filter that helps keep the air clean from any harmful bacteria and dust. The AC uses a copper coil mechanism that adds to its efficiency and cooling performance. In terms of maintenance, it's on the easy side, and the AC uses R32 environment-friendly gas.
Warranty details – 1 year on product & condenser; 5 years on compressor

Another smart kid in this whole list of best split ACs. This 1.5 ton split AC from Daikin is wifi enabled and can easily pair with Google Home or Amazon Alexa, making it more versatile in terms of operating it either via mobile app or voice commands.
The AC is equipped with a copper condenser and has been accredited with a 5-star rating by BEE.
Other features here include an in-built stabilizer, low noise level, power chill mode, and more.
Talking about its reliability, Daikin is a well-known Japanese brand, and it has also got an extensive service network around India. So, if you're looking for something modern when it comes to your next AC, this will be the best one for you.
Warranty details – 1 year on product & condenser; 10 years on compressor.

Here comes the another King of consumer electronics from South Korea.
Samsung has been one of the top preferred brands in India when it comes to consumer electronics.
This 1 ton split ac from Samsung comes with a 3-star rating which is pretty decent. Its 8 pole digital inverter helps it maintain the desired temperature without frequently turning off and on, thereby saving up on electricity.
The AC also comes with a unique air filtration unit called the 3 Care Filter that keeps the air clean by capturing dust and eliminating certain viruses, bacteria, etc., and keeps the inside of the unit clean.
This split AC from Samsung works well even without an inverter with Triple Protector Plus technology that saves it from voltage fluctuations.
Warranty details – 5 years on condenser & product; 10 years on compressor.

Wishing if you could just run the AC with your voice commands when you come home after a long tiring day?
Well, I got the perfect match for you then!
The Panasonic 1.5 Ton AC comes with Wifi capability and can easily pair with Amazon's Alexa Home to read your voice commands. The twin cool inverter inside it enables quick cooling and is perfect for medium-sized rooms.
The AC has also got a 5-star rating that would definitely help you keep the electricity bills low while you enjoy a comfortable climate inside your home, even at 52 degrees Celsius.
Though its price is slightly on the upper side, we would recommend this if you don't want to compromise on anything, no matter how much it costs you.
Warranty details – 1 year on condenser & product; 10 years on compressor.

Perhaps the smartest of all in this list of split ACs that are available in India.
This TCL 1 Ton AC is powered by AI that is Google Assistant-Enabled and can identify and connect with the smart TV of the same brand.
Further, you can control the AC from anywhere in the world using the TCL home app.
The manufacturer claims to save 40% more electricity using its proprietory AI Ultra-Inverter Compressor Technology that helps it operate on an ultra-low frequency.
It also incorporates a patented coating technology called Titan Gold on a highly efficient heat exchanger that reduces corrosion of evaporator and condenser for maintaining its durability.
The fast cooling technology can bring down the temperature from 27°C to 18°C in just 30 seconds.
Warranty details – 3 years manufacturer warranty.

This 1.5 Ton AC by Godrej is an accurate value of money deal. Like the others in the list, it also has inverter compressor technology and could be considered for a medium-sized room.
However, the coil is here made of alloy, but that hardly affects the durability of the AC, and the gas it uses is R290 refrigerant that is environment-friendly and doesn't contribute to ozone layer depletion.
Further, it has a 5-star BEE rating which means it's very much energy efficient.
Warranty details – 1 year on product; 5 years on the condenser & 10 years on compressor.

One of the most compact-sized AC compared to the others in this list. Lloyd is still trying to make a mark amongst the AC consumers in India.
A unique feature that adds to its looks is the hidden Intelligent central digital dynamic LED display. Like all the others, it also comes with inverter technology along with a 3-star rating.
Its innovative Multi Fold Evaporator and copper coil allow it to push the heat off indoors and enhance the cooling effect. Further, the same also adds to its compact design.
This AC is on this list of best split ACs because Lloyd had been equipping their air conditioners with new-age air filters that keep the air fresh and clean.
Warranty details – 1-year manufacturer warranty.

Even though this one has a high price tag, you can still think of going for it if you want to have the good built quality and looks.
The golden design on its white body adds to its uniqueness and gives it a premium look. It has received a 5-star BEE rating and features an auto-restart feature.
The rest of the features include anti-bacterial coating, inverter technology, dust filter, and a few more.
Warranty details – 1 year on product & condenser; 5 years on compressor.

Conclusion
These were a few best air conditioners that are suitable for the Indian environment. If you're buying one for the first time, I would recommend you consider the criteria that I have shared at the beginning of this article and then match it with the products either on this list or elsewhere.
With this, I conclude and hope that your search for the best split AC is successful.