Premium subscription programmes are really in top right now. People are signing up to various services for reasonable prices. However, there's a lot of benefits that can be found through such applications. If you're someone who is into such things, then Times Prime is the app for you. Here is a detailed Times Prime Review.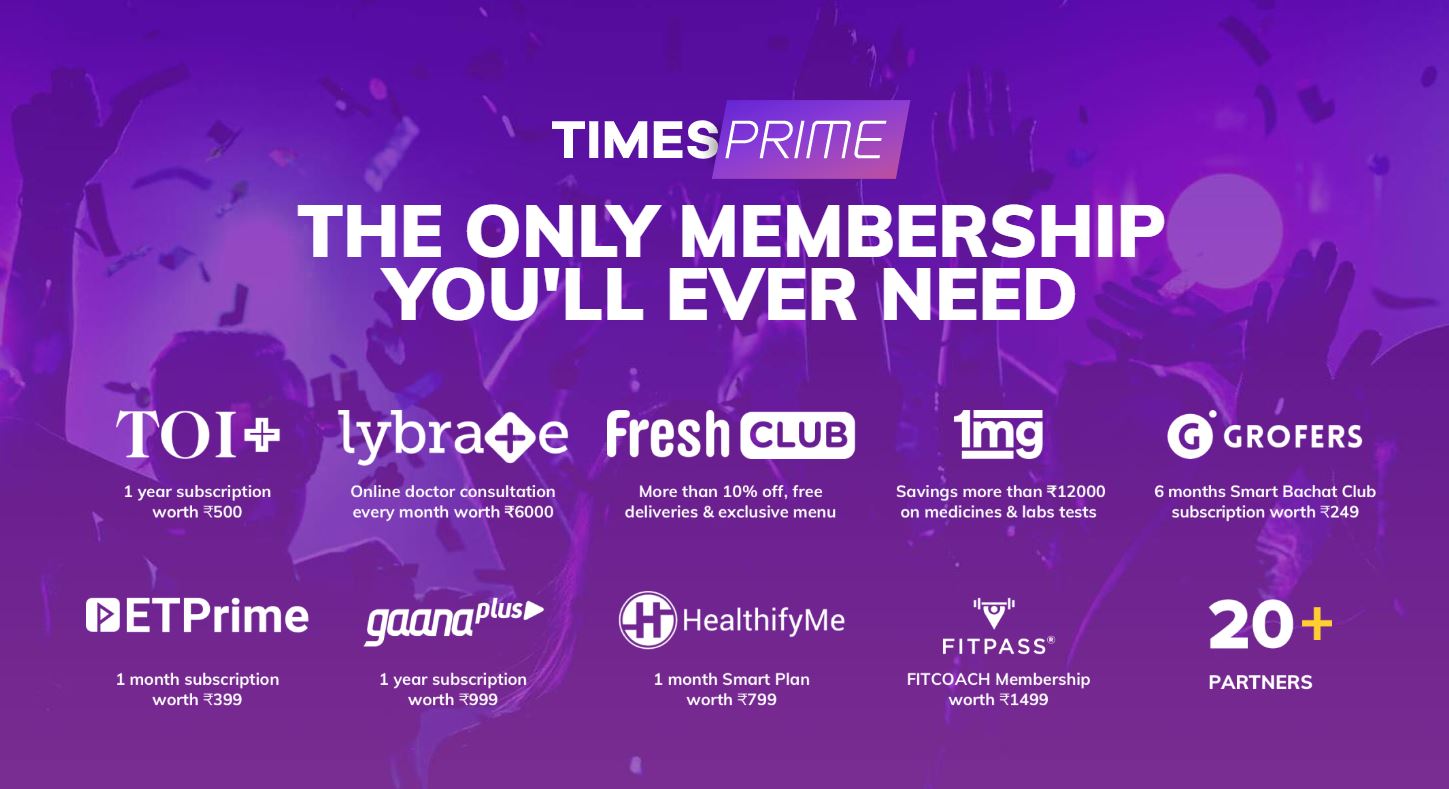 The app is trustworthy and contains coupons for a variety of services. These include categories such as news, entertainment, lifestyle and more. These services will definitely help you to elevate your life.
You must be wondering, however, that what exactly Times Prime is. It is a comprehensive digital membership service for premium content and exclusive benefits. It is a part of the Times group, the largest entertainment and media group right now in India.
Times Prime Membership Review – Full Details
Times Prime is a comprehensive membership program from Times Internet Limited (TIL). Times Internet is also India's largest digital products company.
Loyalty membership programs are becoming more popular in India. I believe this is because Indians are comfortable with a debit card than the credit cards. Usually, credit cards have loyalty programs well established when the volume is high. India had 36.2M credit cards, 846.7M debit cards in January 2018. This clearly shows that Indians love debit cards over credit cards.
Times Prime Card:
This is the active Times Prime Membership virtual card.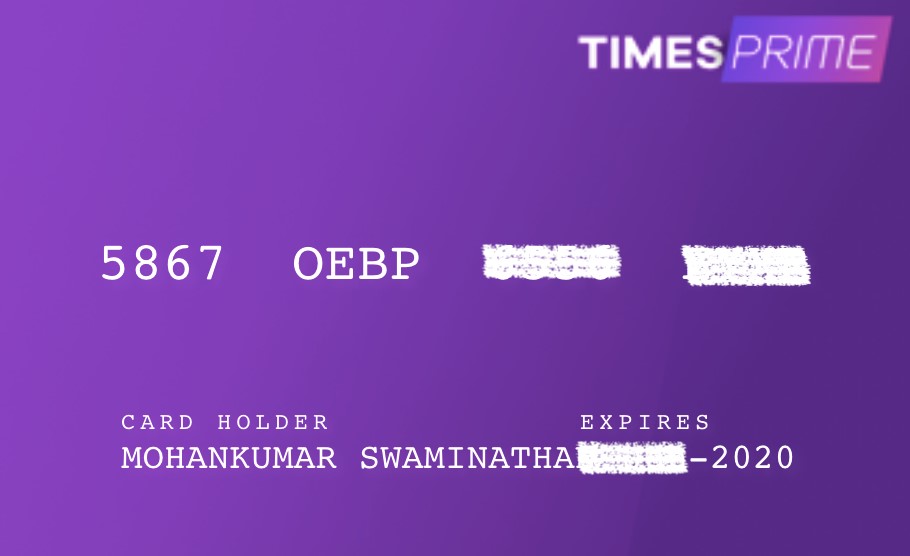 Membership fee
The membership fee is 999 INR per year and the membership is available only to Indian. There is also a 30 days free trial for everyone. All you need is an active Indian mobile number and email address.
Bonus offers
If you are a PayZapp mobile app user (HDFC Bank wallet), then you can get a maximum of 50% off as cashback up to 500 INR out of 999 INR. (Referral code: mosw94)
If you are an active ET Money mobile app users (also a TIL product), the first year membership of Times Prime is free. I personally have availed this offer and I'm so happy with it.
Partners Offers & Benefits
Here are some of the best partners offers and benefits that you will get after you join the Times Prime Membership
Memberships
Some of the memberships that are complementary as of writing this article are
Music without limits, with Gaana+, enjoy ad-free access to India's largest collection of songs. Also, download and stream unlimited songs on your Android and iOS devices in HD quality. I have not yet used them as of now but seems like a good offer.
Times of India is one of the well-known newspaper and digital news website of India. Enjoy Ad-free content with TOI Plus.
A very good delivery app, the best service for home delivery in most metro cities in India. Swiggy super offer Unlimited Free Delivery, Free Delights, No Surge Fee and more! I personally like there service a lot.
Swiggy is also part of HDFC Bank Diners Club 10X rewards So if you hold diners club credit card then along with Swiggy super you will have double benefits.
A very good table booking app offers a membership program which gives you exclusive access to Buy 1 Get 1 offer at 800+ partner restaurants. I'm personally a big fan of Dineout Pay as it gets you at least 25% cash back into Dineout Wallet. I personally use dineout for team outing and dinner with friends and family.
The partner's list may vary from time to time, visit https://www.timesprime.com/membership to keep track of them.
Exclusive offers
There are coupons exclusively available for TimesPrime members from the following partners. The partner's list and offers may vary from time to time, visit https://www.timesprime.com/offers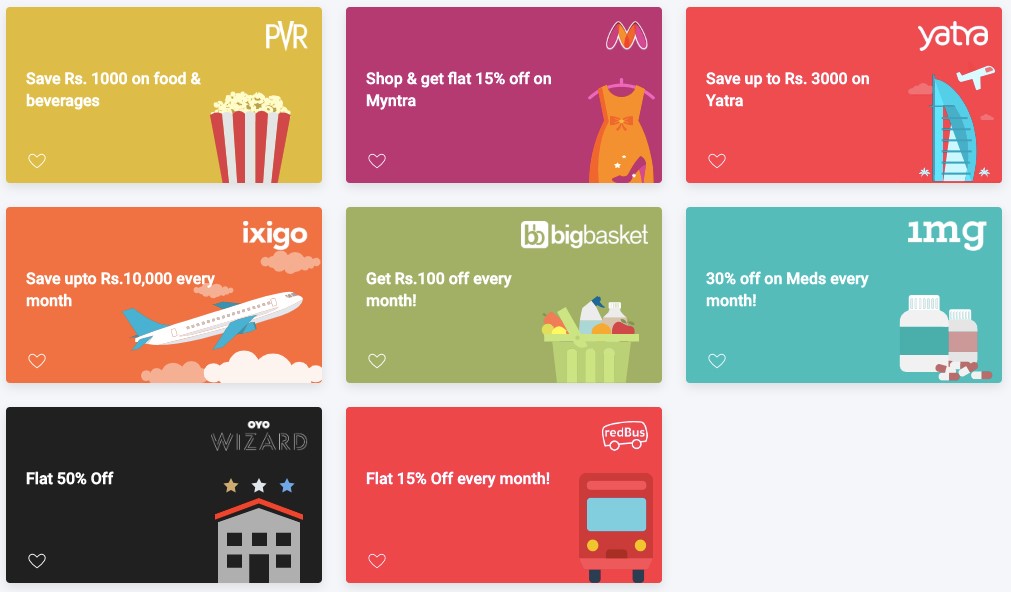 I'm personally a big fan of RedBus coupons and make use of them every month. Others partners are as follows
1mg
PVR
Zoomcar
QuikrEasy
FreshMenu
Chai Point
RedBus
Ixigo
Bigbasket
Myntra
Yatra
OYO Wizard
Experience
The experience partners offer up to 25% flat discount via coupon code and the partners are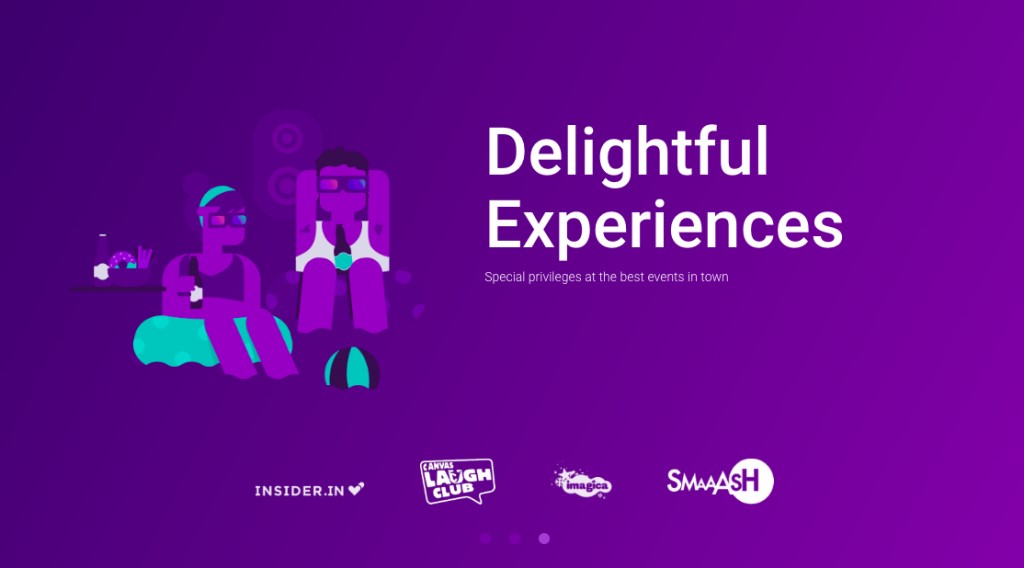 Insider.in
Smaash
Imagica
Canvas Laugh Club
Value Chart
Program
Calculation
Value
Swiggy Super
999 per year
999
Dineout Gourmet Passport
999 per year
999
Gaana Plus
299 per year
299
RedBus
150 x 12 months
1,800
Total saving per year
4,097+
Conclusion:
The loyalty game has started in India. It's moving from credit card to membership programs like TimesPrime, PayTM First, etc. I would recommend purchasing the Times Prime membership if you are at least a regular Swiggy, Dineout or RedBus user. I could see the value within a few months of the usage. It's one of the upcoming membership programs to date available in India.