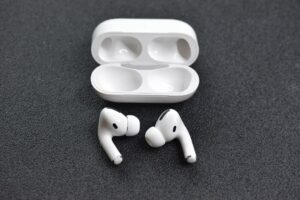 If you're looking for a reliable pair of wireless headphones, Apple AirPods could be the perfect product for you. They have several features that separate them from other wireless headphones on the market.
Apple recently released their AirPods 2, and many customers are wondering if they should make the upgrade and buy the new Airpods. Are they worth it?
Keep reading for a full breakdown on AirPods 2 vs AirPods.
What Are Apple AirPods?
Apple came out with their original AirPods in 2016. They've since become one of the most popular Apple accessories.
If you have other Apple products, AirPods allow users to perform several convenient functions. Double-tap on an earbud, and you can skip a song, pause your music, or activate Siri. You can also name your AirPods, helping you differentiate your pair from others.
If you don't have an iPhone or other Apple device, you can still enjoy the superb audio quality that they deliver. AirPods work on non-Apple devices, such as androids, as well.
AirPods 2 vs AirPods
In March 2019, Apple released its new Airpods, commonly referred to as AirPods 2. Are they worth buying? If you have the original Airpods, should you upgrade? Before making those decisions, you should look at each aspect of the two headphones.
Design
If you didn't like the design of the original AirPods, the bad news is that you most likely won't like that of the AirPods 2. In terms of appearance, they look the same. There's no way to tell the two apart side by side.
One of the criticisms many people had towards the original AirPods was that they looked dull, resembling toothbrush heads or blow dryers as opposed to quality wireless headphones. The AirPods 2 have the same design, and also don't come in different colors.
The charging case also looks the same. Unless you choose the wireless charging case, which is heavier, there'll be no discernible difference.
If you're looking for a giant leap forward in terms of appearance, you might be let down. Consider going with the newer AirPods Pro if you want a different look.
Performance
If the design and appearance isn't a big deal to you, you might be more concerned with performance. After all, who cares what they look like as long as they play music well?
With regards to performance, the AirPods 2 have some differentiating features. Apple shipped its original AirPods with a W1 chip. It has replaced that chip with an H1 chip in the AirPods 2. This new chip comes with a host of new features that make it a respectable upgrade.
AirPods 2 now switch devices faster, pair with your device quicker, and have 30% less latency than the original AirPods. If you're into gaming, this can be a deal-breaker. To summon Siri, you can also now say "Hey, Siri," as opposed to needing to double tap on your headphones.
Siri can then help you do several tasks, such as make a call, send a text, provide you with directions, and answer different questions you may have.
Sound Quality
Faster is great, but it doesn't do much for audiophiles. What sort of sound quality upgrades does Apple give the AirPods 2?
You may be disappointed to discover that the AirPods 2 have no difference or upgraded sound quality compared to the originals. Although they still provide respectable sound quality, fans may be let down.
If you are looking for a boost in audio performance, consider choosing the AirPods Pro. They feature several new features, as well as sound-canceling technology.
Sometimes, the audio quality on your AirPods may be suffering, and you're not sure why. AirPods can have other problems that prevent you from using them. If you're looking for a list of common AirPod issues and how to fix them,
go there
.
Battery Life
Better performance means nothing if the battery life is poor. Luckily, Apple has improved the battery of the AirPods 2.
AirPods 2 enjoy 50% longer call times, although this was a necessary upgrade that catches them up with some of their competitors. Yet the battery case of the AirPods 2 can now provide up to 24 hours of battery life, which is a significant upgrade. This means that you can use it to charge your earbuds for a week or more.
Fifteen minutes of charging time can give you three hours to listen to your music. Although that sounds impressive, the original AirPods did the same.
If you're a fan of wireless charging and don't mind paying a bit more, you'll be pleased to know that the AirPods 2 comes with a wireless charging case. It looks the same as the regular AirPods case but will work with any Qi charger.
Price
The most significant consideration people have to make is if the price makes the AirPods 2 worth the upgrade.
Both the original Airpods and the Airpods 2 have a market price of $159. This means that if you've never owned AirPods before, you can enjoy the new features they offer at the cost many paid for the original headphones.
If you want to buy a wireless case with AirPods 2, it'll cost $40, for a grand total of $199. Be aware that purchasing the case separately will cost you $79. For the best deal, buy it with the headphones and avoid purchasing it on its own.
A Solid Yet Small Leap Forward
If you're an Apple fan, you might be wondering if it's worth it to upgrade to AirPods 2. After reading this guide, you'll have the knowledge you need to make an informed decision. Ultimately, the question of AirPods 2 vs AirPods comes down to personal preference.
What do you think about the new AirPods 2? Let us know!
If you've found this article helpful, don't forget to check out some of our other blog posts for more guides and tips.