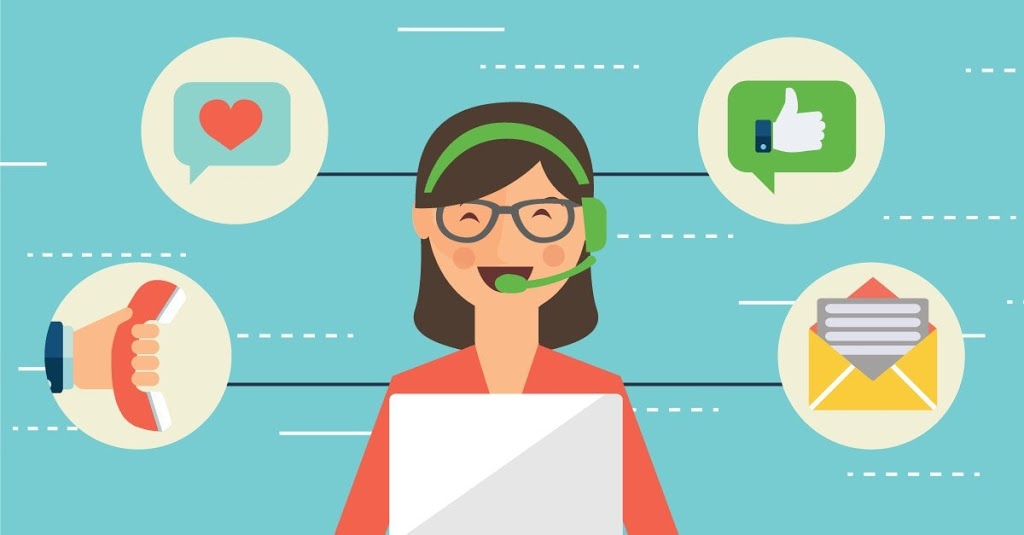 The decade ended well with customers ruling the business world. We have witnessed a huge change in how customers think and what they expect from businesses as the decade comes to an end. Here are some of the key observations made in the past decade.
● 88% of business professionals affirm that customers' expectation was higher than ever in the past decade.
● 89% of customer service professionals agree that today's customers don't hesitate to share positive or negative experiences with the business.
● Over 80% of customers admit they like to join hands with businesses that are offering
unified communication.
As it is a start of a new beginning, it's time to ponder over the takeaways of 2019 and adopt a growth-driven approach. That is why we have come up with a crisp and updated list of customer service trends that every business must watch out in the year 2020.
1. Don't dream of success without omnichannel supports 
In the past decade, customers have developed an affinity towards other means of communication other than just a mere phone call. That is why the rise of omnichannel has occurred and it is likely to rule the customer service industry in 2020 and many more upcoming years.
Using the omnichannel approach, you can easily treat the particular customer experience across multiple platforms as a unified journey. Though it may seem a mere change in the process, its impacts are far-reaching and highly fulfilling.
While it saves time and efforts at the business end, unified communication leaves customers satisfied by giving instant and data-driven customer service. So, if you are dreaming of success without the omnichannel support in 2020, we must say it's not going to happen any time soon.
2. There is no room for bad customer service 
So, you have gained much name and fame in the past decade and have enjoyed a good brand reputation. This may lead to a major fall believe that now there is no need to pay much of the attention of customer service as you have gained customers' trust and have deployed a call center software. This is where you go wrong.
If you are thinking that it's only your product quality that can make you shine above all then let us tell you are you're far away from reality. Apart from your product quality, it's your customer service that decides your future as a business.
Today's breed of consumers is highly aware and particular about their preferences. They want to achieve satisfaction when they are availing of a service. Say about 1/3 of the consumer won't think twice to switch to other service providers just after a single bad experience with you. 91% of customers ditch a business without giving a warning just because they had a poor customer service experience.
In fact, there is a worldwide $75 billion loss per year just because of poor customer service. So, if you are thinking that customer service can be overlooked for a while, you need to change your mindset and give more attention to the operations related to it.
3. Make full use of automation 
Automation has changed the way things used to happen in the business world. By automation of various menial tasks like data collection, email sequences management, reporting, and call answering has helped the business to cater more customers in less time without compromising on the quality of the customer service.
If you look upon impeccable customer service then try to include automation in survey generation, push NPS, and creating customized experiences. The use of automation in all these areas will definitely pump-up your operations. So, make sure that your call center software is having a lot of automation capabilities to support you.
4. Pay for customer loyalty 
A loyal customer should be valued. Many businesses fail to understand this fact that doesn't find it necessary to pay attention to customer loyalty. However, this may cost a lot. You should always pay back to your customers by offering various customer loyalty schemes.
Offering gift coupons, personalized discounts, and memberships are some of the most viable ways to pay back to your customers for your loyalty.
5. Bring chatbots into action 
More than half of the customers want instant assistance. In that case, AI-rich chatbots have helped businesses to leverage round the clock customer service without making extra efforts. Apart from this, chatbots deliver impressive performance in scheduling and reporting. So, make sure you never complete your
call center set-up
without having chatbot at your service.
Final Words 
Customer service is one section that deserves your unwavering attention as long as you are running your business. If you fail to do so, be ready to face some of the worst nightmares like high customer churn, poor ROI, and falling revenues. Would you like all of them? No business would like that. So, it's better to be aware of customer service trends and weave business strategies accordingly.